Remain Calm
Thursday, November 30, 2006
I am hyped up on coffee and sugar. Sugar, especially, from
ensaimada
and cookies and
dulce
-fied bananas and a large piece of rock-hard Milo. And I hyped myself up for no good reason, considering that I have too too too too too too much time on my hands thanks to Reming, Boniface and professors who will only pile the work on when it is storm-less, dead hero day-less and altogether most inconvenient. I was just sitting on the couch an hour or two earlier, a bit weary after reading this short story about the last two people on earth raiding groceries, when I thought to myself, shit, I wants me some sugarrrrrr. I wanted to pretend like everyone else had died from some quick, ruthless disease and I had to raid the nearest Mini-Stop for edible energy. So I proceeded to take the sweet stuff in while watching Rachael Ray brag about making the first meals
with garnish huwaw!
to be freeze-dried for space, and now, now,
NOW
, I feel restless and wrong.
I love storms. And I love getting stranded. But not in my own house with only my grandparents (I love them, but they are much too turtle-like) for company, not at a time when everyone else I know is bogged down with their own business and not with the type of storm that threatens to remind me once again that my life is defined by electricity. Thus, I have already set away a few books to read, have rationed my cigarettes, will charge my iPod and cellphone to the hilt and will think up of more precautionary measures to accomplish for a weekend that will most probably remain cruel despite precautionary measures.
The story I read before the apocalypse story was this almost-
Redbook
-like one about a woman fucking a soap star, and she was wondering why there wasn't an exact word for the opposite of lonely. And then I remembered this episode in one of the better seasons of
Six Feet Under
where Brenda griped about how there wasn't an exact word for parents whose children have died on them. I am now supposed to write some melancholy answer down for these musings, something that I can force to associate with my current feeling of restlessness and wrongness, but I'm just too lazy.
I am sugar-buzzed, free for days
and
lazy. It's the worst combination. And it's only Thursday. I could have gone out today, could have done some actual stocking up for the apocalypse roiling in my head, but I just couldn't bring myself to for some reason. The said laziness, most probably. And I usually like doing things for no good reason. Apparently, the best I can do at the moment is ingest sugar I can't burn right, and that's just sad.
posted by marguerite @ 6:38 PM
|
Katasss
Tuesday, November 28, 2006
Picked my thesis up from the binding elves today. It's so pretty, all black and formal-looking and smelling like processed cowhide, although the elves embossed the cover in gold when I insisted on silver, those bastards. It's also very thin since the screenplay itself is in the soft copy. It's so thin that nothing could be embossed on the spine, so my thesis will end up as just another one of those anonymous slivers in the university archive's shelves. Regardless, it is done. I will pass it to Carunungan tomorrow, and I will give her the biggest, brightest smile, kiss her on the cheek and disregard the fact that my lips have fizzled and bled from her evil Comm secretary-ness. And if Lorenzana happens to be in his office, I will do the same to him sans the fizzling and bleeding part since he is part of a higher caste. And he has great skin. And if Ganesh is on his desk, I will give it one final goodbye rub on its belly. I am a sentimental person.
Speaking of the archives, I visited it for the first time a few weeks ago for a little thesis formatting research. It's such a nice little hole, all cramped and dark and smelling like old cookies and manned by friendly young women who probably appreciate the old cookie smell as much as I do. There are so many places on campus I have yet to visit and probably never will.
+++
The PunchDrunk HegEmoness—who has too much time on her hands and too much caramel and chocolate in her belly—did a little Photoshopping over the past few days.
Behold her efforts.
The ones with Carl at the Bellagio and Jaton all, um, homie-looking are my favorites.
Here's the one she made with my photo (I knew that pose would bite me in the ass one day):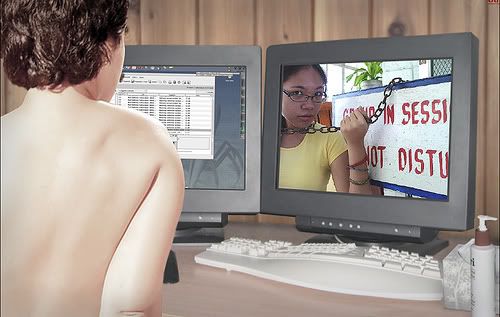 If ever I become a porn star, I would like to be known as Katas.
posted by marguerite @ 6:23 PM
|
I Am Excite
Saturday, November 25, 2006
Adrian and I caught
Borat
this afternoon. Sacha Baron Cohen is one of the most admirable men on the planet. In fact,
Borat
is probably the most
crucially
intelligent film featuring a naked fat man's bunghole, and whoever dismisses this film as just another crass stunt is a moron.
Barely anyone else was in the cinema. A crying shame, especially since most of the moviegoers opted for
Happy Feet
. The trailer for that thing put me off immediately. Too contrived. Of course people will flock to see a cute baby CGI penguin dancing cutely to cute music in the cute name of something cutely called a heartsong cute cute. It's fucking fail-safe.
A heartsong. A
heartsong
.
I can be a total sap. I think baby animals are nice to look at, and yes, sometimes I find them heart-wrenching. But a fat, baby computer-generated penguin? A heartsong? A
heartsong
? The whole thing reeks of evil. The whole thing begs you to watch it.
Not to say that
Borat
never begged me to watch it, albeit through a premise on the opposite end of the spectrum, but that's a completely different case, of course. Pakshet. Just watch the damn thing.
posted by marguerite @ 9:59 PM
|
Yay
Wednesday, November 22, 2006
I did not/forgot to/never planned to go to the batch pictorial this afternoon. Thus, I will not be immortalized as a speck of flesh and hair amidst other specks of flesh and hair. What a travesty.
I don't have a soft spot for my batch. I really don't.
+++
Supposedly, this is the part where I gush over Adrian, my relentless octopus bastard, and the greatness of the past week. Or the part where I post song lyrics that will best embody the said greatness because I'm a fucking sap that way. But I think I'll keep mum. And bright-eyed.
posted by marguerite @ 8:59 PM
|
Shack Up
Friday, November 17, 2006
The past week in a few photographs.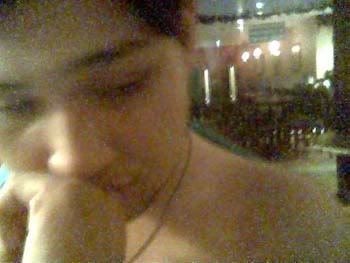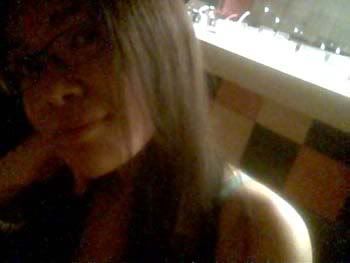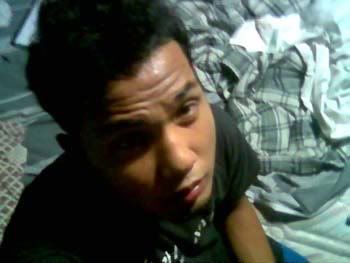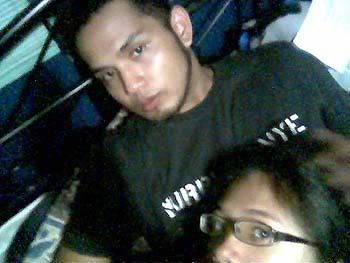 Sunny's going to have a fit.
posted by marguerite @ 1:07 PM
|
Of Course I'm Going to Bore You with My Classes
Friday, November 10, 2006
My schedule for this final, final semester's not too bad. Save for a maderpaking 7-hour break on Mondays (9:30-4:30, if you're up for some trouble), I think I'm okay with the pacing. I couldn't care less about the profs I've ended up with since I have no idea who they are. Except for Fr. Nick, of course, who will forever remain my huggable film freak Jesuit, although I've never had the courage to actually give the man a squeeze. I also couldn't care less about my profs since I have Pumpkin to doodle inanities on my handouts during PolSci and Pubey Boy to, well, be all pubey to me during Philo.
It's been a very good sembreak, getting fat and freaked with friends.
posted by marguerite @ 1:05 AM
|
Good Friday
Saturday, November 04, 2006
Oh my god! Ang panget! D'you get what I mean? Iba...iba talaga. *patented yelp of titillation*
My fingers are trembling. Been awake for 27+ hours and counting. As far as I know, it's still Friday and will continue to be Friday if I can help it.
Em had me, Vittorio, Carl and Larry over to her house last night to drink, ditz around and get fat from barbecue and four kinds of cake, and, with the exception of Larry, who surrendered after a fattening breakfast at Em's gazebo, we ended up not sleeping. That was a badly-written sentence and I don't care. Perfectly sober and determined to stay up, the four of us took a walking tour of Ateneo, tried in vain to lure Peachy out of her apartment (again, advanced Happy Birdie!) and fattened ourselves up even further at Kopi Roti. That was a badly-written sentence and I don't care. It was at Kopi Roti that our sense of coherence really began slip. By 11:30 A.M., we had reached that point when all we could do was whine about our bodies crashing, and although we sort of surpassed that on the ride back to Katipunan, torn between extending the aimlessness and heading home, we finally agreed to disperse after one more drive around the Ateneo campus. That was a badly-written sentence and I don't care. This badly-written paragraph is bereft of many precious details and I don't care.
Oh my god! Ang panget! D'you get what I mean? Iba...iba talaga. *patented yelp of titillation*
+++
Pubey Boy just texted. We are watching
Marie Antoinette
tonight. So. Farewell forever, coherence.
posted by marguerite @ 2:10 PM
|
Dead Day
Wednesday, November 01, 2006
Halloween has yet to hit me. I guess it was drowned out by the workshop and the million other things I'm preoccupied with. But that's alright. The last thing I want is more candy, having stuffed my face with ChocNut and Butterballs all week.
I used to be such a good trick-or-treater. My mom made me this kickass ghost costume when I was eight, this large, white gauze sheet with black felt-lined eyeholes and a wavy, black felt mouth. I got so many compliments with that costume that I continued to use it for about four more Halloweens, or until the sheet was up to my knees and I looked more like a kid in a jumper dress and boots with a giant piece of tissue over her head.
My cousins and I would trick-or-treat in other villages since Kapitolyo was (and still is, pakshet) Hoodlum Central and didn't have a proper trick-or-treat program. Would've been cool, though. There are a couple of houses in this area that have been through televised drug busts.
Merc is sleeping over. She's sitting right beside me, eating chips. The last time I adopted her was during Holy Week. She's good company during the dead days.
Oh, Halloween's over.
posted by marguerite @ 12:26 AM
|